At WEEE Technology, where we help businesses recycle their IT in London, we follow a highly effective WEEE Hierarchy model that conforms to the WEEE Directive, as required by the UK government since 2007.
This WEEE Hierarchy has five main levels namely Prevention, Re-use, Recycle, Recovery & Disposal. Any WEEE that we handle, such as during computer or laptop disposal, will be examined and treated in accordance with the Hierarchy model.
Waste Management Hierarchy Model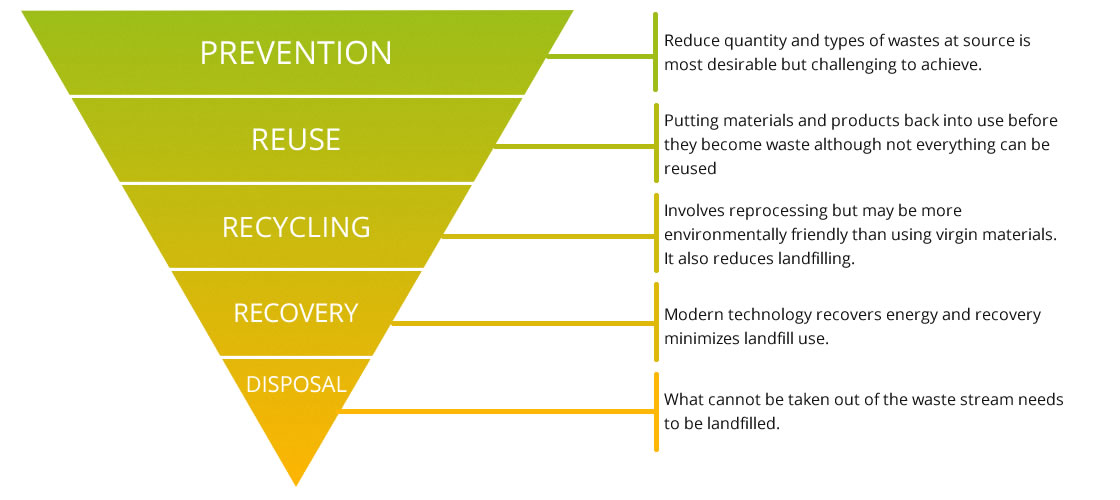 The Hierarchy is implemented to rank waste management options in order of precedence. Fundamentally the aim is to Prevent waste being generated at source.
Where this is not possible, the next priority is to Reuse. WEEE Technology is licenced by the environment agency to repair and refurbish computer equipment to prolong the useful life of the asset. Equipment is professionally prepared for resale to provide good quality computers back into the market. We provide competitively priced and reliable computers, often to customers who cannot afford brand new equipment but who require reliable and compliant IT kit that 'does the job'.
In cases where computer equipment is beyond economic repair or too old to reuse, every effort is made to Recycle. In addition to plastic, computers contain valuable materials such as copper, steel, silver and gold. WEEE Technology partners with an Approved Authorised Treatment Facility (AATF), where the WEEE is processed and broken down into tiny parts, and the separated between metal plastic. This process is carried out for over 90% of equipment that is treated.
After AATF processes the materials, the crushed WEEE is then sold by the ton to energy and manufacturing industries, who then use refining methods to separate and Recover the raw materials to reproduce new goods.
Whatever is left, will then end up as Disposal and go to landfill, however in following the Waste Management Hierarchy model we drastically reduce these levels.